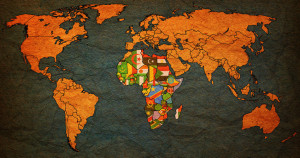 More than six months after its launch on Jan. 1, optimism about the African Continental Free Trade Area (AfCFTA), is fueling small but significant steps forward in the development of the continent-wide free trade zone.
Infrastructure projects — a key component in the continent's development and the success of the AfCFTA — are underway throughout the continent. Thirty-nine African countries have now deposited their ratification instruments. Individual countries are adapting their laws to fit within the framework of the agreement. And the AfCFTA Secretariat has been working with the African Export and Import Bank to implement the Pan-African Payment and Settlement System project, an effort designed to tackle multi-currency issues (there are 42 different currencies used throughout the continent) that if left unresolved could hamper the development of the AfCFTA.
That is just a snapshot of just some of the developments since the historic pact went into effect on Jan. 1. Perhaps most importantly, there continues to be widespread support for AfCFTA in many different forms, including political. And there's plenty of another key element: optimism. "The optimism that exists to find stability through regional economic integration is huge," said Ehrenstein|Sager's Mike Ehrenstein.
In a recent podcast on the topic, Ehrenstein explained that it's important to appreciate the magnitude of the trade pact and how it's different from other well-known alliances of its kind in history. For example, the EU common market was conceptualized in 1950, yet progress took decades, with holdout countries such as Bulgaria and Romania only becoming EU members nearly six decades later. By comparison, 54 African Union member states (the only holdout is Eritrea) signed on to the trade agreement for its launch on day one — Jan. 1, 2021.
That said, AfCFTA has some unique challenges, including its magnitude. It covers a massive amount of territory however you measure it — the number of countries, total population, land area or any other metric. Another challenge: While the EU was an effort that joined developed nations, the AfCFTA joins countries in which a significant number of households have no access to reliable electricity and other key components that are necessary for economic growth and a higher standard of living.
"This is 55 countries coming together at once and many of them are not developed," Ehrenstein said.
Nevertheless, AfCFTA created a single $3.4 trillion economic bloc that encompasses 1.3 billion people. The World Bank projects AfCFTA could lift tens of millions of those people out of poverty by 2035. According to the bank, the agreement also has the potential to boost Africa's exports by $560 billion and increase wages and the standard of living for skilled and unskilled workers throughout the continent.
Ehrenstein believes the agreement if properly implemented, will not only have a profound effect on intra-continental trade but trade and investment to and from the United States and other parts of the world. "The AfCFTA is poised to create enormous opportunities for the United States and its companies," Ehrenstein said.
The launch of the AfCFTA and the progress and enthusiasm to date have been impressive. But enthusiasm alone is hardly equivalent to successful implementation — which will require yet more courageous political leadership and economic commitment for this historic pact to yield a virtuous cycle of development.
Michael Ehrenstein's firm, Ehrenstein|Sager, has effectively litigated, tried, and arbitrated a wide range of international disputes involving private enterprises and governments around the world, including Africa. Learn more on the Ehrenstein | Sager website: https://ehrensteinsager.com/.