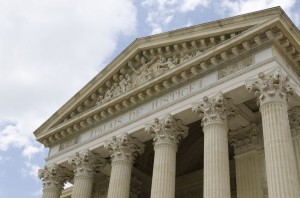 In Process Industrial v. Nigeria, the plaintiff seeks enforcement of a new $10 billion arbitral award against Nigeria arising from Nigeria's breach of a gas contract. Nigeria moved to dismiss based on sovereign immunity. The trial court disagreed, finding that Nigeria waived sovereign immunity by ratifying the New York Convention on the Enforcement of Foreign Arbitral Awards.
In the appeal, the Circuit court voiced concern that if it ruled that Nigeria's ratification of the New York convention worked as a waiver of sovereign immunity, then the same would be true for the United States when it defends itself in myriad actions brought against it in foreign courts. Accordingly, before the ruling, the Court asked the Department of Justice to provide the administration's view. The DOJ declined and argued that the trial court's ruling should be affirmed on other grounds.
We continue to believe that the mere execution of the New York Convention does not waive sovereign immunity for the signing countries. Any waiver of sovereign immunity should be clear, unequivocal, and expressly stated. The New York Convention simply does not accomplish that end nor was it designed to address the issues of sovereign immunity arising in the context of investor-state disputes. As a policy matter, the court and Congress should carefully think through whether the U.S. should be increasingly exposed to enforcement awards abroad without the armor of its own sovereign immunity.